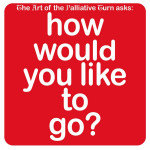 Per Huttner will participate in the second version of The Palliative Turn at Künstlerhaus Bremen 09.07.–03.10.2022. He will show his drawings "Studies for Duet with a Dying Plant" and will present the performance "Duet with a Dying Plant" at the exhibitions finissage. He will also make presentations with Annemarie Goldschmidt and William Stafford in September. More info soon.
Participating artists:
Carla Åhlander, Louise Ashcroft, Simon Blanck, Christoph Draeger, Kasia Fudakowski, Anna Gohmert, Annemarie Goldschmidt, Teal Griffin, Harry Haddon, Ethan Hayes-Chute, Lars-Erik Hjertström-Lappalainen, Keith Larson, Per Hüttner, Nina Katchadourian, Alex Kwartler, Karin Kytökangas, Mathias Lempart, Dafna Maimon, Marit Neeb, Laura Pientka, Sascia Reibel, John-Luke Roberts, Xavier Robles de Medina, Lydia Röder, Ruth Rubers, Maxwell Stephens, Anna M. Szaflarski, Nala Tessloff, Jana Thiel, Olav Westphalen and Gernot Wieland.
More info soon.