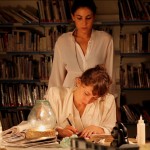 Swedish artist Per Huttner invited the citizens of Beirut to an artistic walk through their city. It started at Assabil Library on September 12, 6.00pm. The group walked in absolute silence for 45 minutes. The walk was followed by the screening of the short film entitled "the Silence" that the artist had created specifically for the Volume project, curated by Sara Giannini with 98weeks.
Performance photos by Marta Bogdanska
Both works look at how metaphysics and politics of our everyday lives dialogue to shape our existence. Huttner introduces an imaginary silence that mystically descends on the inhabitants of the city and stops them from both uttering or hearing any sounds. In the film we follow two women who are mysteriously trapped in a library and who follow the political changes that take place outside as a crippling silence descends on the city and their lives. Drawing explicitly from Ingemar Bergman's Persona and Louis Buñuel's Exterminating Angel in order to reflect on how certain decisions shape our lives. The Silence is both a reflection on the library, the specific context of Beirut, Huttner's Nordic upbringing and creates a wedge between imagination and reality that compels us to reflect on values that we normally take for granted. The project is a collaboration with cinematographer and director Yang Tingting.
The performance has since been repeated in France, Sweden and the film has been screened in China.
Credits for the film:
Actors: Wafa'a Celine Halawi and Lynn Kodeih
Cinematographer: Yang Tingting
Camera assistants:  Andrea  Verdecchia and Raymond Gemayel
The fighters: Birgitte Abrahamsen, Carlos Ajami, Ziad Assaf, Jonathan Blezard, Margaux Duval, Sakina Dhif, Stephen Ofori, Saadi Shaar, Max Rost and Michel Yammine
The Silence was created for the VOLUME Project in Beirut, September 11-20, 2014, curated by Sara Giannini in collaboration with 98weeks. The VOLUME Project was created in collaboration between Assabil Libraries, Vision Forum, 98weeks and supported by the Swedish Institute and Prince Claus Fund. A special thank you to Zeina Assaf, Clarisse Chebli, Sami Moussa and Linköpings universitet.