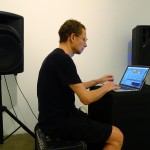 - Performance and sound installation for the JOGJA Biennial 2015, ICAN Gallery, Yogyakarta, Indonesia
The project formed a part of the offsite program of the 2015 Jogja Biennial. The project offers an investigation into how we can find a more dynamic relationship to our everyday working situation. The artist undertook a series of interviews with people living in around Yogyakarta. It quickly became clear that people in the city relate to time fundamentally differently from what westerners do, which meant that the interviews gradually also focused in these differences in outlook on time and temporality.
The project was carried out in three parts:
1.    The artist undertook a series of interviews with young and old people about how they see their current, past and future work situations.
2.    The work was presented as an ongoing concert/performance where the interviews were transformed into a soundscape where the interviews were incorporated into the flow of abstract sounds.
3.    A sound piece can was created that was looped throughout the duration of the exhibition.
Why reflect on work? Gallup recently published a report based on questionnaires carried out in 142 countries. It showed that 83% of the workforce feels "disengaged" at work and as much as 94% in Asia. It means that the human resources that make up the vast majority of the adult population, carries out tasks, rather than actively engaging in what they do. Could there be a bigger waste of human potential?
At the same time, unemployment among the young is staggering around the globe. The world will soon have one billion unemployed young people. The project asks three questions:
-    How can we make our daily life at work more rewarding?
-    How can the young develop new ways to earn a living that makes them feel appreciated and engaged?
-    What can we learn from a dialogue between how people in Yogyakarta and the west see time and temporality?
The interview format also offered another important asset. Many people feel that they cannot express their opinions or that that their voices are not heard. The interview, concert and sound installation therefore also offers a strategy to lend a listening ear to people and to broadcast how they look at their lives.