Concrete Poetry, The Hayward Gallery, London, UK – 2011, curated by Richard Parry.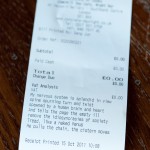 Photo by Mark Blower
Description of the project
The project was presented on the receipts at the Museum's café. Huttner took lines from the Welsh poet Dylan Thomas and sampled them with lines from German philosopher Friedrich Nietzsche. In this hip-hop way he created ten new poems that were each 7 lines long. The poems were chosen randomly, so that each visitor seemingly got a personalized poem.
Above, you see poem number 1 on a receipt. Below are two more examples.
2.
waters that no frost could harden
forked out the bearded apple,
my story is immoral
shaping-time the circle stung awake
incarnate devil in a talking snake
you have not yet received my thanks!
well then, kill him as well!
3.
gods might long and become fishers
Samson of your zodiac.
Drunk as a vineyard snail
Towards the studded male in a bent,
beauty: he teaches us that here
Love, labour and kill
Become what you are!