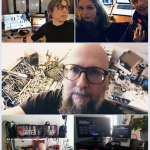 Per Huttner will participate in Transformation II – an online festival for BCI, neuro-feedback and music Sunday May 3, 2020. Please tune in by clicking here.
He will present "Meditative Striptease," which is a live collaboration with Carima Neusser. Per uses real time EEG (electroencephalogram – measurements of brain activity on the scalp) to make sounds. Carima uses EMG (electromyogram – measurements of muscle activity on the skin) to make sounds. They also both use their voices and focus on different meditative breathing techniques throughout the hour while Carima strips.
Here is the full proigram
P-Node day 50, Transformation II [online] – BCI, neuro-feedback and music, curated by 1+1=3 & ∏Node for Antivirus
17:00 – 18:00 -  introduction + "histoire du bio-feedback appliqué à la musique", Samon Takahashi
18:00 – 19:00 -  "The brain during seizures, death and resurrection" a discussion about the recent work of Dr. Valerio Frazzini, MD., PhD candidate Antoine Leclercq, and Dr. Stephen Whitmarsh, Various locations
19:00 – 20:00 – ""brain2radio2brain | pérégrinations radiophoniques & sonifications électroencéphalographiques"", Guillaume Dumas [Live], Paris, France
20:00 – 21:00 – "Meditative Striptease", Carima Neusser / Per Hüttner [Live], Stockholm, Sweden
21:00 – 22:00 – "Minnesmaskiner – You are listening to me while I am listening to myself", Jan Carleklev, Skogen [Live], Sweden
22:00 – 23:00 – "Human x Machine Learning x 4: Cave Music, Wais,Delearn DSCP, Rock Regression ", Atau Tanaka [Live], Montreuil
23:00 – 00:00 – "Harmonics", Stephen Whitmarsh [Live], Robinson.
After the event, you can listen to the whole emission any time, hour by hour, here.