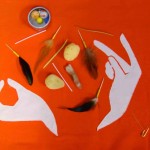 Are You Touched is a one week workshop in Ostrobothnia where Finnish, Swedish and French choreographers, visual artists and fashion designers investigate the potential in inter-human touch in the arts. Together they investigate new ways of working. They develop working methods, building trust both between the members of the group as well as in the working process by drawing on the divergent knowledge among the participants.
The group shares interest in how the human body can be continuously rediscovered through exercises and conversations. In the collective work they focus on how touch can become a way of sensing and bending the impression of time and space. How rediscovering breathing, bodily rhythms and temporalities of biological as well as constructed processes can open for new perceptions for the dynamics of tissues and cells.
The visitors to Energiverket are invited to take part in the results of the workshop by choosing from a menu of work-in-process performances and exercises. Each visit begins with an opening performance by Emilia Rota that lasts 5 minutes evoking trust and solidarity..
Menu :
- Sensorial discovery in the dark: "Are You Touched?" by Emilia Rota (10min-2h).
- Relaxation, music and storytelling: "North American Indigenous World Views and Inter-human Touch" by Per Hüttner (30min.)
- Video – moving in space – video. "Princess Nature" by Carima Neusser (30min).
- Somatic perception exercise: Lung dancing to sound and mosquitos "Soft Support of the Lung" by Sara Gurevitsch. (20 min.)
Participants: Sara Gurevitsch, Emilia Rota, Carima Neusser, Per Huttner and Robert Logrell. The procet is a collaboration between Energiverket, Novia, Morgondagens konstpublik and Vision Forum. It is supported by Svenska kulturfonden, Kulturrådet and The City of Stockholm.