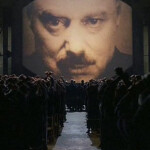 Per Huttner participates in "2084″ in Helsiniki.  2084 is an exhibition that takes place in the present and speculates on the role power will play in the future. He participates in the performance events that accompany the exhibition and that will be hosted in the gallery October 10 and 13, 2020.
The exhibition and events do not aim to provide answers but offers narratives on the various ways power is activated today and what could happen in the years to come. They draw inspiration from the book 1984 by George Orwell. The fictitious subject matter of the book was forward-thinking, and in many ways, it has become a reality; think of today's use of surveillance cameras, algorithms and fake news. However, despite the dire tone of the story, notions of love and activism were also present as integral forms of power. From this foundation, the participating artists in 2084 explore power and the future through themes such as media control, social protest, as well as imagination and desire.
2084 is curated by Stockholm-based curator Anne Klontz
Location: Cable Factory,  Valssaamo, Helsinki
Performance Tuesday, 13 October: 7 – 9 p.m.
7 p.m. 
The Power of Ontologies – Performance by Per Hüttner
8 p.m.
 D1984 – Performance by Carima Neusser
The performances are organised with Vision Forum.  We are grateful to the Swedish Arts Grants Committee, the Nordic Culture Point, to Catalysti for organising everything and to Anne Klontz for inviting us and  for making the research of the project possible.