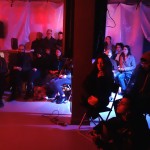 Vision Forum is proud to announce a public event that connects three of the projects that we are involved in. The project will be shown publically at La vilette in Paris. Based on the "Spiritual Lapdance" that More Eyes presented in Los Angeles they will join forces with the EEGsynth team and Daniela de Paulis Cogito project at La folie numerique.
The program.
13:00 EEG mechanical piano installation, synth jams with Kevin Bartoli
19:00 Ignacio Rebollo (ENS): Lecture – Synchronous waves in the mind, brain and stomach
20:00 Samon Takahashi: Lecture – Pioneers of brainwave music
21:00 Carima Neusser, Per Huttner, Stephen Whitmarsh: Spiritual Lapdance, EEG-music & dance performance
Entry is free and all events are open to the public.