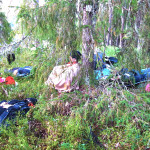 Wednesday, October 18th, 2023 17:00-20.00
at Archipelago Centre Korpoström
Korpoströmsvägen 832, 21720 Korpoström
Researchers have learned that plants rest at night, in a similar way that humans and animals do. But do they also dream? What is their nocturnal existence like? Which similarities and differences can we find between them and us? Do Trees Dream of CO₂ is a Franco-Swedish collective that has been developing technology and artistic expressions to facilitate interspecies dialogues between humans and trees for two years. The audience is offered an opportunity to get a glimpse of the technical, scientific and artistic developments that the projects have made to date.
Humans have traditionally ignored plants' ability to solve problems. Biology has recently acquired important knowledge about plants and their perception and problem solving skills. In Do Trees Dream of CO₂, artists and researchers investigate what art can learn from this new and exciting research and how it can be used to create new and visionary art. Visitors are invited to participate in a practical demonstration where they can try to dialogue with a tree. In case of bad weather, the demonstration will be made indoors. In any case, participants should bring a yoga mat (and a blanket and warm clothing).
Per Hüttner is a Swedish visual artist and musician who lives and works in Stockholm and Paris. He's the founder and director of the international research network Vision Forum and a member of various musical and  performance collectives. He has been part in developing the EEGsynth which a tool to use brain activity in performance art.Karine Bonneval is a French visual artist. Her transdisciplinary practice offers alternative ecologies for breathing, moving and listening with the plant world. By invoking popular and scientific culture in her pieces, she invites humans to "phytomorphism", to experience a moment of shared time with plants, in dialogue with the air, the soil and gravity.