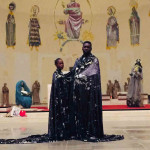 Per Huttner is proud to announce that he will perform Ghetto Gucci at documenta fifteen, in Kassel June 17, 18 and 19
In Ghetto Gucci artists from Haiti and Sweden invite the audience to reflect on the role of visions, dreams and life goals in our lives. Whether we live in great poverty or in enormous wealth, we encounter relentless advertising images, media reports and slogans that tell us what to think and how to act. How can we collectively find alternatives? Art offers other perspectives. With art, we can engage with each other with our bodies, with real emotions, create real exchanges and give each other support.
The two performance artists Michel La Fleur and Jerry Reginald Chery appear on a dark stage. They are dressed in "bling-bling" and Gucci copies. They stare coldly at the audience and at the same time caress live kittens in their arms. Carima Neusser and Adriana Benjamin enter the stage and they dance together. We see that through dance they develop another form of freedom and alternative ways to communicate. By creating and dancing together the artists become intimate with life in new ways. Music, movement and props enable them to formulate new hope and new goals. Huttner provides the soundscape for the entire performance.
Between the different tableaux, romantic paintings of  heroes from the Haitian revolution are projected on stage. The Haitian revolution is an important inspiration for Haitians who want to change their lives. What dreams of another life drove the slave uprising 1791-1804? Ghetto Gucci inspires artists and audience alike to learn from each other, from history and to reflect on what kind of future we can imagine individually and collectively.
Ghetto Gucci is a performance developed jointly by Swedish and Haitian artists under the direction of the Swedish choreographer Carima Neusser. It will also be shown at Weld in Stockholm June 26 and 27. The presentations are supported by the Swedish Arts Grants Committee and The Swedish Arts Council.