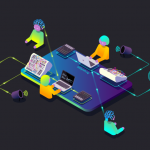 We warmly invite you to join us for Andouillette
Andouillette is a unique audio-visual performance by international art-science collective 1+1=3, created especially for the Finnish conference on Clinical Neurophysiology. In Andouillette, brain and body signals, e.g. EEG & iEMG, will be connected to modular synthesizers and video projections, creating musical audio-visual neurofeedback loops and deep listening experiences.
1+1=3 has been developing their performances, software and music, since 2014. You can find out more information about the artists and researchers Per Hüttner, Stephen Whitmarsh, Jean-Louis Huhta, Samon Takahashi and Robert Oostenveld and their technology at www.oneplusoneisthree.org and www.EEGsynth.org
The host of the event is Veikko Jousmäki from Aalto NeuroImaging.
Aalto University (Väre)
Otaniementie 14
02150 Espoo
1+1=3 is supported by the Nordic Culture Fund.