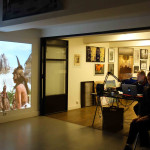 An Infinite Love is a project about art and surgery. A third incarnation of the project will take place in Paris November 25-28. As part of the project Per Huttner will perform a new piece on November 27, 2021. For the performance he has created new and specially composed music that is influenced by the brainwaves of colleague Joakim Forsgren. He also takes a similar signal from a scalpel. Parallel to the music Huttner will present imagery from the history of surgery and dissection.
Below you will find the program. If you want to join any of the events, please write Rudi Heinrichsen on: info [at] visionforum.eu.
1) Thursday November 25, 6 pm Museum Fragonard in Maison Alfort.
2) Friday November 26, 10 am Collection Dupuytren
3) Friday November 26, 4pm, the Swedish Institute,
4) Friday November 26, 6pm, Workshop at a private location.
5) Saturday November 27, 3pm Museum of History of Medicine
6)  Saturday November 27, 5 pm, Performances at secret location.
7) Sunday November 28, 2pm, Workshop and discussions at a private location.
The project is made up of a group of international artists, practicing surgeons, psychiatrists, philosophers, thinkers, sexperts, active sadists and more. They are during two years meeting regularly to investigate why certain aspects of the medical profession are taboo. The project is supported by Helge Ax:son Johnsons stiftelse and the Swedish Arts Council.