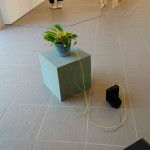 Per Huttner and Multiple Vision Forum members participate in the second version of The Palliative Turn at Künstlerhaus Bremen 09.07.–03.10.2022. For the finissage of the project there will be a weekend of events. Huttner will meet and work with Kinesiologist Annemarie Goldschmidt  in Copenhagen August 29 to prepare for the small festival.
Here is the program for the two days in Bremen:
Friday, 30.09.22
6 pm Performance by Per Hüttner: Duet with a Dying Plant
7 pm talk by Livia Paldi
8.30 pm film screening of contributions by Christoph Draeger, Nina Katchadourian, Olav Westphalen, et al.
Saturday, 01.10.22
11 am Last Aid Course with Lydia Roeder (DE)
1 pm Workshop with Annemarie Goldschmidt (Kinesiologist) and Per Hüttner (artist) (EN)
3 pm Workshop with Louise Ashcroft: NO KIDS (EN)
4.30 pm Exhibition tour with members of APT
7 pm Open roundtable with members of APT
8 pm Palliative Dinner (Registration at galerie@kuenstlerhausbremen.de)