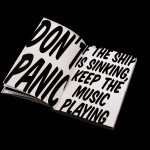 Vision Forum is proud to announce the release of the "Ö – A Möbius Trip" publication and CD. It is a multi-facetted and collaborative book created over two years that brings together different journeys undertaken by an international group of artists.
The publication will be presented under performance-like circumstances in Stockholm and London:
- Dream of the Palace – A gesamtkunstwerk created by Henrik Sputnes and Vilma Luostarinen in collaboration with Felicia Atkinson, Rasmus Persson which forms a sattelite to the XIVth OuUnPo-session The Fugue – Hallwylska museet, September 15, 12 am – 3pm.
- What is Potential? Exploring Aristotle, Art and Medicine, October 10, 2-6pm 2015 at the Wellcome Reading Room.
Both events are free of charge and open to the public. The publication was edited by Isabel Löfgren and Per Hüttner and designed by Erik Månsson. Find out more about Vision Forum's publications here.