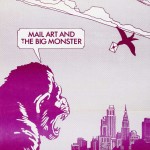 NATIVE FOREIGNERS
A ubiquitous radio broadcasting in Ulises Carrión's footsteps
Unfold, in collaboration with Jumex Museum, Mexico City, De Appel, Amsterdam and documenta 14, Athens is thrilled to invite you to join the radio broadcasting event that inaugurates the building up of its upcoming last issue dedicated to the work of the Dutch/Mexican artist Ulises Carrión (summer 2018).
The radio show brings together Carrión's fans and scholars alike across space and time with discussions, readings, and performances from all three cities. The radio show addresses the resonance of Ulises Carrión's oeuvre in contemporary culture, as well as discusses current forms and strategies of (artistic) self-determination beyond, behind, or within institutions.
Three radio stations will be temporarily installed at Museo Jumex, De Appel and Parko Eleftherias in collaboration with three local web radios. Local audiences are welcome to join the event in one of the locations, while everyone, everywhere can listen to the broadcast on the world wide web.
In conjunction with the event, Per Huttner presents a performance drawing inspiration from Ulises Carrion's "Gossip, Scandal and Good Behavior."
22 APRIL 2017
12PM – 3PM (GMT- 6) – Mexico City
07PM – 10PM (CEST) – Amsterdam
08PM – 11PM (EEST) – Athens
Broadcasted live through:
Radio Tropiezo, MEXICO CITY
Ja Ja Ja Nee Nee Nee, AMSTERDAM
Cannibal Radio, ATHENS (part of "Every Time A Ear di Soun", a documenta 14 Radio Project)
from:
MUSEO JUMEX, MEXICO CITY
DE APPEL, AMSTERDAM
DOCUMENTA 14, PARKO ELEFTHERIAS, ATHENS
Native Foreigners is initiated by the web publishing/archiving platform Unfold in the context of Ulises Carrión's retrospective Dear Reader. Don't Read at Museo Jumex in collaboration with the Society of Friends of Ulises Carrión, Parlament of Bodies, documenta 14 and the Ulisses Carrión Research Group, De Appel, Amsterdam.
Unfold is a project curated by Sara Giannini, designed by Raoul Audouin and funded by Vision Forum.