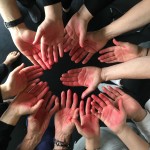 Vision Forum and its partner MKP organise a second workshop that investigates how contemporary research on affective touch can be used for new forms of expressions in the arts. The workshop will take place at Allartnow and c.off in Stockholm April 26-28. At the latter venue, the group will make a collective public perfomance April 27, 7-10pm. During the performance the audience is invited to have a unique and artistic sensorial experience based on the research of Emilia Rota.
PARTICIPANTS in the project: Gabriel Widing (Theatre director) Ann-Christin Berg Kongsness (Choreographer) Malin Björnsdotter (Neuroscientist) Olav Westphalen (Visual artist) Annemarie Goldschmidt (Specialized Kinesiologist) Järva Engman (Actor) Per Huttner (Visual artist) Predrag Petrovic (Neuroscientist) Emilia Rota (Fashion designer) and Carima Neusser (Choreographer).
The project is supported by the City of Stockholm and Svenska kulturfonden in Helsinki.