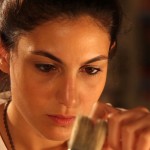 Per Hüttner will present his exhibition 'The Silence' at Fagerstedt Gallery in Stockholm February 19 – March 28, 2015.
The exhibition brings together two bodies of work created for greatly different contexts that both investigate that fine membrane between you and me. The work examines how we, human beings, are both all the same and yet infinitely different. Same, because we all begin and end our lives the same way; and different because no two instances in the history of the universe is ever the same. In any interaction with other human beings these similarities and differences are activated. Huttner, in other words returns to a central question in art, philosophy and religion that has occupied man since the beginning of time and that beckons our attention without ever offering any solutions.
The film 'The Silence' was commissioned for the VOLUME project in Beirut in 2014. The work is clearly inspired by Bergman's Persona, Buñuel's El ángel exterminador and shows two women who are imprisoned in a library and whose situation is pushed to its extreme when the world goes mysteriously silent. The circumstances pushes the two women to make life changing decisions in the face of the events.
In conjunction with the film, the artist shows a series of photographs that depict an object that was developed for a performance at Pinacoteca in Sao Paulo in 2014. The object is made up of three interconnected circles of different white fabrics that have been twisted once and in and forms a complicated Möbius strip. In the photographs we see four feminine hands that handle the object delicately. Are these the same hands that work on the books in the library? What are the hands trying to negotiate? Where does the object come from and what purpose does it serve?
A special performance will be presented on February 18 with a limited number of places. Please contact the gallery to book your free ticket well in advance.