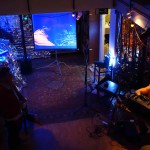 - Jean-Louis Huhta (musician), Per Huttner (visual artist) and Hernan Anllo (neuroscientist and hypnotist)
Media Artes and Vision Forum are proud to announce a 1+1=3 performance. During the event Huhta will present a musical improvisation based on an EEG-recording of Huttner's brain activity during hypnosis. He will feed the pre-recorded signals into his modular synthesizer to shape the control signals into a dynamic soundscape, using software and hardware developed by the collective.
The event will begin with Huhta being hypnotised by Anllo. The suggestion will make Huhta believe that his modular synthesizer controls Huttner's brain cells and mental capacities. He will be asked to "give sense to Huttner's brain" and to "put it back together." At the same time the audience will be able to see images of the original hypnotic session mixed with real time videos from the event. Through this process the performers will reflect on artistic intention and the control mechanisms that are used in artistic performances.