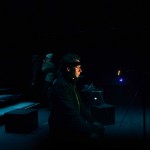 Come and experience contemporary Brainwave Music – an art form that connects music and neuroscience. Welcome to the Kulturhuset Fyren and an afternoon concert in the concert hall Snäckan. The concert is free and everyone is welcome!
Saturday, 23 March 2019 from 13:30-14:30
The group 1 + 1 + = 3 consists of Jean-Louis Huhta (modular synth), Per Hüttner (EEG performer) and Stephen Whitmarsh (EEG controller). Together they create a piece with a focus on feedback between sound, video and the brain waves they measure during the performance using their own technology. The state of the brain affects the sound image as they together control trance-like dis-harmonies, ghostly suggestions and exciting eroticism. The event begins with a brief introduction on the technology and the ideas behind the performance. After the performance you have the opportunity to discuss issues raised during the concert.
Kulturhuset Fyren
Borgmästaregatan 6
434 32 Kungsbacka
Sweden
The event is streamed on: www.inesplay.se
Organised by: Region Halland och Kultur & Fritid i Kungsbacka