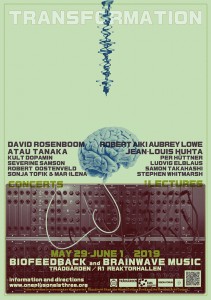 Transformations is a 3-day bonanza of lectures and performances that celebrate the logic and madness of the human brain and body when it creates music in unexpected ways. Meet modular synth geeks, cult brainwave-musicians, neuroscientists, neuropsychologists and experimental musicians and be seduced by their passion.
The events are held May 30 – June 1 at Trädgården and R1-Reaktorhallen, Stockholm, Sweden. Per Huttner will perform at 22h on May 31 and at 21h on June 1. See schedule for details.
The project is supported by Musikverket, Stockholm Stad, the Nordic Culture Fund, Kulturbryggan, the Swedish Arts Council and private sessions are held at Elektronmusikstudion (EMS).